I wanted to thank you for your expert help with our Mumbai trip in September.
Kalpesh Parmar - UK
Testimonial 2
Testimonial 3
Testimonial 4
Testimonial 5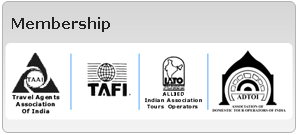 One Day Picnic
Essel World
The Mumbai's only international-style theme park and amusement centre situated close to Gorai Beach is ESSEL WORLD. Special ferries get you across to the park and the entrance fee normally takes care of a fixed number of rides. These include the standard roller coaster and adventure themes, plus a water world section where kids can literally run amok. Summer is usually crowded, but the place also offers low budget monsoon packages and special deals on weekends.
Water Kingdom
Water Kingdom is the heat at Asia's largest Wave pool with more than 90 lacs litres of water.. The Water Kingdom is an exciting chill out zone with some of the wackiest sports on the offer
Adlabs Imagica
Adlabs Imagica is a mega tourist destination conveniently located on the Mumbai – Pune Expressway. Most Attraction are Mr. India- The Ride, Rajasaurus River Adventure, Alibaba Aur Chalis Chorr, Salimgarh, I For India, Prince of the Dark Waters, Gold Rush Express, etc...
Great Escape
The Great Escape Water Park is a getaway for the entire family. Away from the pollution of Mumbai. A host of water games and water slides for the entire family.
Silent Hill Resort
Silent Hills Resort is one of the largest planned resorts in India. Living in the clutter of concrete jungles, pollution, stress, traffic jams, noise, all of us are in search of silence.
Tikuji-Ni-Wadi
Tikuji-Ni-Wadi is a family theme park the nestles amidst the charming hills and lush green valley of Manpada Chitralsar Thane, this theme park is favorite retreat for those who want to spend some time away from the hustle and bustle of the city.
Suraj Water Park
Suraj Water Park is one of the most popular water resorts of Mumbai (Bombay), the Bollywood city of India. Recently this modern water park has accessed the Limca Book of Records with its largest man-made cave crafted out of fiber-glass.
Shangrila Waterpark
Shangrila is actually a perfect place to unwind yourself amidst nature's bounty. Shangrila Waterpark is a retreat for all those who are tired of their daily schedules. It's a beautiful place, where one can enjoy with family as well as friends. Perched between hills, under the infinite sky, this water park is a great place to take pleasure in the splash of waters.
Nishiland Water Park
It is absolutely pleasurable for people of all age groups, including youngsters, elders, toddlers, family and friends. With its entirely new concept of water games, the waterpark offers best variety of recreation and enjoyment. It's a nice place to chill out and let everything go out of your mind. Wave pool, children's play pool, water slides, boating, a 'Rub a Dub Jacuzzi' and many more attractions make this park, a favorite place amongst youngsters.